You've gathered by now that not very far behind sewing, one of my big obsessions is tap dance. I've causally been going to dance class for as long as I can remember, but tap has remained the true love and focus of why I regularly subject myself to skin-tight clothing and rooms filled with mirrors.
I've stepped up over the last few months and tripled the amount of time I spend in the studio and have started to prepare for
Stockholm Tap Fesival 2016
. It's Europe's largest festival and I've signed up to over 25 hours of class over the Easter weekend. Holy cats, that sounds scary now it's been said out loud!
I've made an outfit to bulk up the number of things I have available to wear to class. This is also my entry to the
PatternReview 2016 Activewear contest
. I'm publishing the blog post and contest entry in tandem as most other entries on the PatternReview site were far shorter than what I had originally drafted, and it looked like my faceceaous commentary was getting in the way of actual information about the project.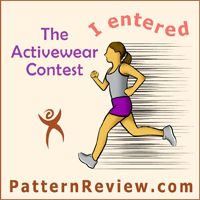 So this is the full 1600 word text, please
visit the PatternReview site if you'd like the abridged (less than 150 word) version!
Outfit comprises
Counterfeit Nike Hoodie (aka, the Hoofer Hoodie)
Paddle & Roll-bot Leggings
Bog Jazz Standard Tank Top
Everything is sewn on my standard sewing machine, Janome 7025/525s.
Pattern description
The Hoofer Hoodie is a raglan sleeve hoodie with long sleeves, thumb holes in the cuffs, 2-piece cowl hood, kangaroo pocket and unusual seamlines. A classmate wore the original Nike hoodie to class and I decided to copy it as well as possible. I mean, not identical - that would be creepy - but recreating the hoodie in a different textile would be enough to fool most eyes. Most of this pattern was drafted from scratch using
Winifred Aldrich's Metric Pattern Cutting for Womenswear
.
The book was a Christmas gift from
Mammafairy
(thank you!) so I was itching to use it on a new project. I drafted according to size 10 measurements and drafted one of the loose blocks in the knitwear section.
The leggings and tank top are copies of well worn shop-bought clothes. The original trousers are still in use (obtain pattern by laying flat and drawing around it) whereas I cut up the vest top (use scissors to cut up along the seamlines).
Pattern sizing
The initial hoodie came out
really
wide. Good job I did a muslin! The original is a slim fit. To fix this I reduced the sleeve width by 1/3 and made follow-on corrections to the front and back bodice.
The leggings and vest top were consistent with the originals and I have made several versions of these by now.
Did it look like the original garment?
Now, I didn't have access to the original garment so only had information on the finished height of the cowl. The rest is all down to
Nike's website
. Thank you Nike for putting such large, high quality and comprehensive detail shots on your website! I finished this top and immediately gasped "holy cow, this is
accurate!
"
The
original Nike Women's Tech Fleece is a running hoodie, and available to view/buy here
. There was no way I'd have been able to draft this from scratch without those photos.
The hood is a major and recognisable design element on this garment, so I had to get it right. The hood draft I had made according to Winifred Aldrich looked wrong and I was struggling to correct it.
Left shows my original draft, looking wrong. Right shows the corrected shape.
Hood muslin v2 - testing the fit
Enter again Nike's excellent detail shots.
I used this hood photo
to trace the correct piece by importing it into CorelDraw and then used the bezier tool to draw the piece I needed. InkScape will also do this perfectly well but I'm trying to learn how to use Corel and need the practice. Knowing the height of the cowl, I just scaled up my new object to the right size and printed it off. The gusset at the back of the hood is a rectangle, so I just drew one out on paper, tested it on the muslin and was ready to go!
I can't get mine to lie as flat as the original, but you get the idea
This was far mor effective than correcting by hand, which was going very very wrong. Once again, thanks Nike for such good photos!
Dark lining + dark hair + massive hood = floating head!
What do you like/dislike about the pattern?
I liked almost every aspect about the original. It's a really nice top.
I disliked the thumbholes. I mean, I understand why people say they will happily pay more for a top if it has thumbholes. I too like to keep my hands warm in a top with long sleeves. But I hate having a hole in my cuff where my wrist will get cold, and I hate random bits of my forearm/elbow poking out of a hole in a sleeve. Basically: less irritating design means better ability to concentrate in class. I redesigned the cuff so that there was no hole, but I would still be able to hook it over my thumb. Now they're as warm and as versatile as possible.

Fabric used
Hoofer Hoodie:
No idea, sorry! It came from
Misan's Clearance Basement of Wonder
. My guess would be a mix of wool, something synthetic and some elastance/lycra. It's warm and very light. I was lucky enough to find it in 2 weaves making it fun to add contrast panels.
One is a herringbone weave, one is a boxy-style
Paddle & Roll-bot Leggings:
95/5 viscose/spandex Punto Milano from
Ditto Fabrics
. It's not listed as activewear, but it stretches and moves well. My assumption is that it's perfectly good activewear fabric in disguise.
Bog Jazz Standard Vest Top:
95/5 cotton/spandex jersey from Ditto's remnant pile. The contrast is the beginnings of some wonderful supplex from
Zenith & Quasar
(whose site seems to be undergoing some remodelling currently). I would have liked to use brighter colour for this top, but thinking in the context of
The Year of the Outfit
, the grey was the only one in the stash that was appropriate.
Alterations and design changes?
Mmm, let's see. I tried to be as accurate as possible to the original...
Redesigned the cuffs as above
Added invisibale zips to the pocket openings. I want the pocket to be as secure as possible so things (i.e. iPods) don't fall out while dancing or throwing the jumper across the studio. You don't see many hoodies in the shops with zips in the pockets, unless they have some sort of zip opening on the front of the body. Do you know why? They're blinkin' tricky! They are very fiddly, trust me.
Secret easter egg-style alteration: avoided the topstitching on the original in some areas if I thought it would look a bit shoddy compared to the original.
Remove 1/3 width from the sleeves (and consequently the body) for fit and style
Lengthening the sleeves for style
Find a completely different method of drafting the hood, as above
Somebody has super-long arms now!
Would you sew it again? Would you recommend the pattern to others?
YES and YES
I'm planning for another hoodie as a regular casual top, maybe omitting the zips. It'll probably be in simpler sweatshirting and I may modify the cuffs again for style.
I'd also totally recommend Nike as a good brand for copying clothes (so you don't need to buy them), the pictures and details of materials used are very thorough in the online shop. Anyone who fancies copying shop-bought clothes will appreciate the information they can get from the Nike site.
Contest info
This is my entry into the 2016 PatternReview Activewear contest. Those of you who have come here from PatternReview (hi!), thanks for bearing with me. The 3 items are hoodie, top and leggings. The hoodie is drafted from scratch and a blatant copy of this Nike hoodie. The vest and leggings are TNTs

Those of you who have come here by other means (probably Facebook), well done for coming this far!
What will you be using this for? I'll be wearing this stuff at tap class. We run, we jump, we get sweaty. Everyday we be shufflin'. We really don't want to tread on or fall over our trousers - as a result most people wear ankle-length leggings in class, whereas I prefer this length.
Why does this qualify as activewear? I copied a pattern for a running top and made new versions of the clothes I already wear to class. It's going to spend its life in a backpack, getting sweated on or in a laundry pile so I made it light, compact, secure, easy care and stretchy/moveable. It the fabric is actually wool, could I also count that as anti-microbial?
Fabric choice. Stretchy varieties with spandex for recovery. I chose fabrics that had similar composition and fibre content to my old RAD leotards and jazz pants.
What makes is different to garments of other functions? Well It's definitely not office appropriate. It's February in London and it's bloody cold so I'm not wearing it outside (I tried briefly yesterday evening). It's not swim-appropriate and there's not enough skin on show to make it appropriate for pole or aerial. It won't protect my head in a cycling accident and isn't abrasion resistant so wouldn't stand up to motorbikes or theatre work.

I supposed I could sleep in it...but why would I when there are moomin pyjamas a few feet away?

I supposed what makes it uniqely tap-able compared to other garments is:
+ Style and fit to suit dancing, while also leaving room for my gargantuan shin muscles
+ Design to minimise tripping or loose items flying about
+ Light, easy care textile choice for easy packaging/crumpling, wearing during class and simplifying laundry
Thanks for reading guys and gals. I haven't managed to get any action shots yet, but there is proof I wore it to class on
TapTapTap's Instagram page!
The hoodie was daunting and I put it off for a couple of weeks as I was a bit scared of starting it. To paraphrase one of my classmates, tap is often about feeling the bear and doing it anyway.
Kx